Welcome! The Doctor Is In!
Welcome to The Castle of Royal Smiles!
The Philippines, known as the "Pearl of the Orient", attracts millions of visitors yearly. Its serene beaches, colorful fiestas and rich culture are just some of the reasons why it is one of the top destinations in Asia.
There is another one good reason to travel to our country: Dental Tourism - combining leisure with affordable dental requirements.
We take pride with our high standard of dental works in very affordable prices. Our friendly and accommodating doctors will help bring out the perfect smile you've always wanted to have all your life!
No wonder, patients around the globe now discover the Philippines as their dental haven!
Schedule an appointment
now and get the best smile you deserve!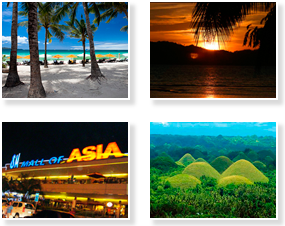 After your dental treatments explore the wonders and the beauty of the Philippines. From the great white sandy beaches of Boracay, to the unique Chocolate Hills of Bohol and to the biggest mall in Asia. Don't forget your serving of the breath-taking view of the sunset in Manila Bay.
Your trip to the islands may prove to be really worth it!
Read More »