Oral Surgery
Wisdom Teeth Removal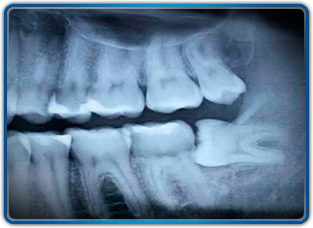 A wisdom tooth, in humans, is any of the usually four third molars. Wisdom teeth usually appear between the ages of 17 and 25. Most adults have four wisdom teeth, but it is possible to have more, in which case they are called supernumerary teeth. Wisdom teeth commonly affect other teeth as they develop, becoming impacted or "coming in sideways". They are often extracted when this occurs. About 35% of the population do not develop wisdom teeth at all.
Extraction/Removal
Wisdom teeth are extracted for two general reasons: either the wisdom teeth have already become impacted, or the wisdom teeth could potentially become problematic if not extracted. Potential problems caused by the presence of properly grown-in wisdom teeth include infections caused by food particles easily trapped in the jaw area behind the wisdom teeth where regular brushing and flossing is difficult and ineffective. Such infections may be frequent, and cause considerable pain and medical danger.
Other reasons wisdom teeth are removed include misalignment which rubs up against the tongue or cheek causing pain, potential crowding or malocclusion of the remaining teeth (a result of there being not enough room on the jaw or in the mouth), as well as orthodontics.
Source:
Wikipedia
Bone Grafting
Over a period of time, the jawbone associated with missing teeth atrophies or is reabsorbed. This often leaves a condition in which there is poor quality and quantity of bone suitable for placement of dental implants and may disrupt the normal facial contours. In these situations, most patients are not candidates for placement of dental implants.
Today, we have the ability to grow bone where needed. This not only gives us the opportunity to place implants of proper length and width, it also gives us a chance to restore functionality and esthetic appearance. Bone grafting can repair implant sites with inadequate bone structure due to previous extractions, gum disease, pathology or injuries. The bone can be obtained from a tissue bank or your own bone is taken from the jaw, hip or tibia. In some instances synthetic bone substitutes can be used alone or in conjunction with natural bone. In addition, special membranes may be utilized that dissolve under the gums and protect the bone graft and encourage bone regeneration. This is called guided bone regeneration or guided tissue regeneration.
Pre-prosthetic Surgery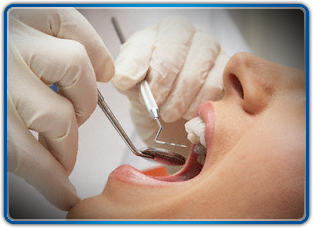 The preparation of your mouth before the placement of a prosthesis (denture or bridge) is referred to as pre-prosthetic surgery.
Some patients require minor oral surgical procedures before receiving a partial or complete denture, in order to ensure the maximum level of comfort. A denture sits on the bone ridge, so it is very important that the bone is the proper shape and size. If a tooth needs to be extracted the underlying bone might be left sharp and uneven. For the best fit of a denture, the bone might need to be smoothed out or reshaped. Occasionally, excess bone would need to be removed prior to denture insertion.
One or more of the following procedures might need to be performed in order to prepare your mouth for a denture:
Bone smoothing and reshaping
Removal of excess bone
Bone ridge reduction
Removal of excess gum tissue
Exposure of impacted teeth